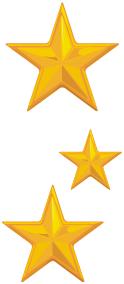 Whatever they tell you in school or whatever old design formats your colleagues share with you, the truth is that in the real job search market –presentation really does matter and it makes a HUGE difference.
Here are a few tips that can help you polish your resume pronto!
Dynamic Heading.  A few things can help your resume's heading pop. You can bold, change the font size, create a logo, or add a clip art. The point is to ensure it is tastefully done and relevant to the industry. Note:  I do not recommend anything other than bolding and changing font size for conservative industries (i.e., engineering, law, accounting, insurance, etc.).
Summary / Profile. Brand yourself a professional (or merging professional). You can begin to do so easily by adding a job title before your Profile/Summary and underlining your new section with a colored border.
White Space. One of the most neglected visual techniques is the inclusion of white space. Including white space makes the reading inviting and easier on the eyes. Legible!
Cleanup Sentences. I am a concise kind of gal. For me, conciseness is key. Keep paragraphs short. Personally, I don't like more than say five to six sentences together. Nice crisp and clean –but power hitting!
Color. I mentioned color above, but allow me to elaborate and emphasize you must use color carefully. If you are using more than one color, keep it coordinated, subtle, and professional. If you have no color theory knowledge, keep to the same color and just combine two shades. Better yet, stick to one color.
Borders/Dividers. Sectioning off the areas of your resume with either borders, dividers, or extra white space is an excellent way to keep things organized and neat. Give each section a strong and bold title. Make it easy for your employer to skip to the areas desired.
Bullets Limited.  A sea of bullets is not attractive– no matter how you adorn them. I try to keep bullets to no more than six. There a few things you can do here like inserting space of .02 to .04 in between bulleted sentences; create a paragraph and then bullet only extraordinary achievements; a bit trickier, but effective, is grouping bullets/achievements based on skill.
The Second Page Matters. When you create a second page, remember to format it also. Many will focus on the first page and the second page looks pretty plain. Use the same techniques I listed above. It is even more difficult to guide your reader's eyes through the entire second page, as most employers don't even read that far into your resume. If they have, ensure it is an easy and information-driven read.
Extra Visual and Marketing Power. Adding an endorsement or a quote is an excellent eye-catcher. Just ensure you have followed the white space rule, otherwise, your endorsement will just seem like unnecessary adornment.
If you are interested in more tips that can help you clean up your resume as a professional would, try purchasing our Resume Guide book here.