Nursing Resume Writing Service: Top Nurse Resume Writers
15 years of experience as your #1 source for quality, interview-winning, and clinically accurate nurse resume writing services by a former BSN student and multi-certified resume writer 
We earn referrals from nursing clients, professors, recruiters, and hiring managers
Our clients: Directors of Nursing…Registered Nurses…Student Nurses…Nurse Practitioners…Doctors of  Nursing…LPNs…Nursing Assistants…Health Care Professionals
Is your healthcare resume modern with a visual appeal? Is it concise and inspiring or repetitive and boring? Does your nursing resume reflect how well you manage and prioritize patient care based on acuity? How well you collaborate with other nurses and physicians? How your critical nursing skills and interventions save lives? Do you have preceptor experience? Are you competent in coordinating the administration of advanced medications? Knowledgeable in various provisions of direct patient care? What sets you apart as a nurse?
Today's nursing resume must do more than just report that you did your job and the credentials you offer. The winning nursing resume in today's dynamically changing healthcare industry must showcase how you deliver value. What is value in a clinical/hospital setting? What is it they need from you? Do not underestimate the power of words. Your nursing resume must persuade, convince, and soar above the rest. 
Now, imagine what it will feel like to have a fantastic resume that looks and narrates that you are the PERFECT candidate, attracting many tough-to-attain interviews for your new nursing or healthcare job!
Unleash the power of a professionally written nursing resume with our premier nurse resume writing services. With over 15 years of experience and a multi-certified nurse resume writer who is a former BSN student at the helm, we are your leading choice for producing interview-winning, clinically accurate nursing resumes.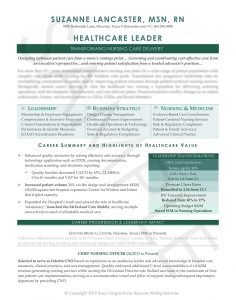 From Chief Nursing Officers to Student Nurses, our clients across the spectrum of the nursing profession vouch for our nurse resume writing services.

Our reputation precedes us; earning referrals from nursing clients, professors, recruiters, and hiring managers is a testament to our dedication to excellence.
Our portfolio extends to a myriad of healthcare professionals, including Directors of Nursing, Registered Nurses, Nurse Practitioners, Doctors of Nursing, LPNs, Nursing Assistants, and more.
Your nursing resume should reflect your core beliefs as a nurse– a professional committed to delivering compassionate, safe, and competent care to the ill. It's more than just a list of qualifications; it's a testament to your skills, experiences, and your unique nursing philosophy. Moreover, it is a promise you are making your future employer! 
Partner with our top nurse resume writing services
With our top-tier nurse resume writing services, you'll be the proud owner of a stunning nursing resume that clearly communicates your suitability for the clinical role. We specialize in showcasing your unique qualities and strengths, making you an irresistible candidate for your dream nursing or healthcare job.
As one of the best resume writing firms for nurses and healthcare professionals, we don't cut corners or outsource your resume writing to inexperienced writers. Your career aspirations are as important to us as the quality of care you provide to your patients.
Our approach to nurse resume writing is holistic. We don't just rewrite your nursing resume. We interview you, conduct extensive job-market research, and highlight your individuality as a nurse while guiding you through a transformative branding process. This process doesn't just prepare you for the interview; it changes your perspective on self-promotion and gives you the confidence to showcase your skills and accomplishments.
Over the years, we've built strong relationships with our nursing clients, watching them grow from fresh graduates to experienced supervisors. We have the privilege of aiding their professional journey by providing regular resume updates and ongoing career support.
Our goal is to create unique, modern, and impactful nursing resumes that open doors to new opportunities. A branded resume from us is not just a list of qualifications or job descriptions. It narrates your unique story as a healthcare professional, painting a vivid picture of your commitment, passion, and suitability for the role.
Our track record in nursing resume writing services is nearly flawless. We've assisted nurses across the U.S., and around the globe, in securing interviews in highly competitive markets. From new graduates to seasoned healthcare leaders, our services have catalyzed successful career transitions and job placements.
Whether you're looking to enter a new specialty, returning to work after a break, or aiming for a leadership role, we're here to help. Our certified career management coach and quadruple certified resume writer, Rosa Elizabeth Vargas, and her dedicated team are ready to work with you.
We pride ourselves on our expertise and integrity. Our ultimate satisfaction comes from seeing our clients happy and employed. Contact us today at rosamrw@gmail.com to begin your journey towards an outstanding nursing resume.
If you're wondering why you're not getting interview calls despite the high demand for healthcare professionals, remember that even the healthcare industry is not immune to budget cuts. Our professional nurse resume services prepare you to demonstrate your value to potential employers, highlighting how your nursing care benefits their facilities.
Invest in your future with us; we guarantee we will help you stand out, regardless of your
"Rosa, the process was incredible. I felt so ready for the interview after our session. I thought you were going to ask me questions to develop my resume. I had no clue the session was also going to help me understand how I need to sell myself. I know I don't brag enough! Thank you!"
~ Laura Reed
Our nursing resumes are modern, unique and branded because the old resume with an Objective statement and a sea of bullets is dead!
What it means to have a branded nursing resume is that you will not have a resume that simply lists qualifications and bullets after bullets of job descriptions. Don't you think they know what the job entails? A branded resume promotes your candidacy by going beyond qualifications to promise them you are the right nurse to join their care team and ensure patient and family satisfaction.
Your new nursing resume will offer value and advertise your nursing philosophy; your inspiration for becoming a nurse; your individuality as a care provider. Yes, in addition to your clinical reasoning; experience across different units; and broad scope of practice. Of course. But, think about it. Every other nurse will do the same. What will you do to make sure you stand out? What are you saying that is hurting your candidacy? What are you forgetting to promote?
Best Nurse Resume Writing Service | Top Nursing Resumes 
Our nursing resume writing services has been nearly 100% successful, enabling nurses to survive online sorting and impress hiring authorities in tight job markets in the U.S., including in competitive states such as California, Colorado, New York, New Jersey, Texas, and more.
We have also won interviews for healthcare professionals around the globe: Nurses, RNs, Nurse Practitioners, Nurse Anesthetist, Medical Assistants, LPNs, LVNs, and Nursing Assistants, etc.
Our nurse writing experience includes:
Successfully worked with students from top nursing schools (ADN, BSN, MSN, MSNA), helping them get into highly competitive residency /graduate programs and land their first nursing jobs.
Positioned student nurses and experienced nurses strongly in the market, providing them with the tools to get their foot in the door at Magnet status, JCAHO accredited, and teaching hospitals. We also write resumes for corporate executives.
Skilled at overcoming obstacles. Empowered nurses returning to work who are perhaps taking a refresher program.
Facilitated transition into another specialty for nurses with many years of experience under one employer/nursing unit.
Elevated the resume of LPNs who went back to school to become RNs.
Transformed international resumes into a U.S. based resumes that work!
Developed director-level resumes for healthcare professionals, attracting higher pay!
Our clients include student nurses, experienced nurses,  and healthcare leaders, nurse practitioners, doctors of nursing and more.
Specialties span across medical-surgical, critical care, emergency department, acute and intensive care, pediatrics, labor and delivery, public health and home health, family practice, and so many others.
We also work with executives within and outside of the medical industry via our top executive resume writing service site.
Whatever your situation, we have the experience to help you. Our certified career management coach and quadruple certified resume writer has been coaching and writing resumes for nearly 18 years.
Rosa Elizabeth Vargas understands the medical/nursing lingo and personally trained her handpicked (and highly dedicated) writing assistant to support her in the delivery of top-notch nursing resumes that not only make a connection with hiring authorities but empower you in the process.
We are experts and integrity-driven. We do this because we love it and reap gratification when our clients are happy and employed. We will do right by you.
Email: rosamrw@gmail.com 

To get started right away review rates and process here
We will help you! That is a guarantee! Contact Nurse Resume Writing Services Today